NEWS
Kym Johnson's DWTS Diary: Having a "Scream" With David Arquette!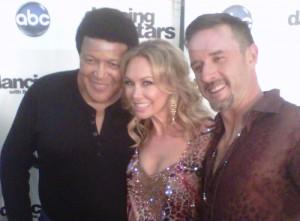 Hi, everyone, and welcome to my OK! blog! I'm so excited to be back for a new season! Every week, I'll share all my behind the scenes stories as I take David Arquette from dapper actor to ballroom great on this season of Dancing With the Stars. So glad you'll be joining me!
Last week was a great week for us, it was so good to get positive feedback from the judges and to to get those scores. It was a big confidence booster for David. And this week has been really good, we've got the Paso Doble which is one of my favorite dances. It's really feeding David's energy, especially because we've got the movie score week, so i feel like David's going to feel more like he's doing a big motion picture sort of thing. He's taking on this character and we're having a lot of fun doing it. The scores last week were great, I think he was really happy with how we danced. It went really well so he's calm and he was more happy with how the dance went.
Article continues below advertisement
KYM JOHNSON'S DWTS DIARY: WE'RE MAKING A COMEBACK THIS WEEK!
This week we've been working really hard, but we did also manage to have a bit of fun. David had a barbecue for the entire cast at his house on Saturday, which was so much fun. And then we all went to Universal for that horror night, which was terrifying! I had David and Tristan and Chaz all surrounded me as we were walking through it — I was so scared! It was so much fun. Cheryl was so scared, she had her iPod with Alicia Keys on it, walking around, because she couldn't stand the noise of it. She also had two people either side of her, armin arm. The two of us were terrified.
OK! NEWS: DAVID ARQUETTE TEASES NEXT DANCING WITH THE STARS PERFORMANCE — "JUST BARE NAKED"
It was amazing though, the maze was great, and we went and saw the Scream thing as well. Which was really funny and David and I took a funny photo of us. I've only seen the first film, I should see all of them since David is my partner! He is so funny in it.
That was really fun because normally everyone is working so hard throughout the week, and then by Saturday, you've got the routine ready, you hope, and you can actually do something on Saturday night — go to the movies or go out so it was so sweet of David to have us over to his house and take us to Universal.
Article continues below advertisement
I was so shocked last week when Kristin Cavallari was eliminated. I thought she was going to be in the final, so it really sort of shocked us all. I think it put things into perspective for David as well, just like, "Wow, I'm really happy just to be here and enjoy it." You never know when it's going to be over. I think it really shocked a lot of people. I think her being right in the middle and people not thinking she needed votes... I think it was just that case where people thought because she was dancing so well, people just thought she was safe.
I'm so excited about doing our dance tonight, we have the best music, we're both playing these characters, it's just a really really fun night. Yesterday we had what we call "Show and Tell." Everyone goes into the big studio and we sit down and watch everyone's routines. We were watching everyone's dances yesterday, and everyone was just so entertaining and so good.
Article continues below advertisement
I'm excited to watch everyone's dances tonight. It's a new thing we started. I thikn it's a good thing because you get the nerves out of the way by performing in front of other people. It's good for that stress level as well, because you have to do it in front of an audience. Everyone is really supportive and really encouraging which is really nice. The camaraderie among the cast is amazing. I doubt we'll be doing that when it gets to the final three, but right now everyone's really supportive. When we get to the final three it'll get more competitive, but it's still, everyone is really supportive of each other and it's really nice.
See you tonight, and remember to vote for David and me!
Kym