NEWS
Kym Johnson's 'DWTS' Diary: The Heat Is On — First Elimination Night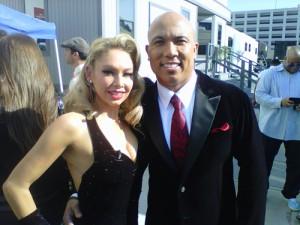 Hi, everyone, and welcome to my OK! blog! Every week, I'll be sharing with you all the behind the scenes stories as I train NFL wide receiver Hines Ward for this season's Dancing With the Stars, trying to make the Pittsburgh Steelers pro look as cool in the ballroom as he does on football field for season 12!
I am so glad Hines did so well last night! I thought that he wouldn't be that nervous, but he was kind of more nervous than last week, because we were last. It's tricky when there are so many couples, there are 11, so it was like two hours to wait and he was seeing everyone else doing well and the judges being hard, so I think it kind of got to Hines a little bit. He pulled it off, and he did a great quickstep! We tied for first for the night — I'm so proud of him, he's doing so well!
Article continues below advertisement
OK! EXCLUSIVE PHOTOS: BEHIND THE SCENES AT LAST NIGHT'S DANCING WITH THE STARS!
The show is so unpredictable, which is scary, but it's good because you never what's going to happen. The competition feels like it's really begun now that someone's going home — it feels real. So we're definitely nervous but hopefully we had people support us and vote for us and we'll keep in the competition. I'm having so much fun working with Hines — I definitely do not want to go home tonight.
KYM JOHNSON'S DWTS DIARY: HINES SHINES DURING LAST NIGHT'S PREMIERE!
Hines and I really get along well with each other, and while we work very very hard together in rehearsals,we also have a lot of fun. Like you saw last night, him teaching me a little bit of slang. What you didn't see is I've taught him some Australian slang as well! He's in L.A.by himself, so I've been showing him around L.A. and he showed me around Atlanta, it's great. On the dance floor you need to have a great connection. We know each other very well, and it helps our performances. He likes Koi, I took him there, we went to a little hole in the wall Mexican place — it's always difficult because Wednesdays and Thursdays are pretty tough days learning the new routine. I might take him to another L.A. spot on Friday when we feel like we're confident with the routine.
Article continues below advertisement
KYM JOHNSON'S DWTS DIARY: TONIGHT'S THE BIG NIGHT!
We don't even know what the routine will be for next week yet, we only find out the song and dance we're doing on Tuesday, so now it's week by week. We really only have five days to do a dance. This is when the pressure really kicks in. I've just been telling him to take it week by week. I don't want him to be focusing on making the finals or anything like that, I want him to enjoy every single week and enjoy learning how to dance. And he is! He told me yesterday, "I love dancing!" I was so surprised those words came out of his mouth! I was like, "Did you just say you love dancing?" And he was like, "Did I?" I don't know what his football friends will think of that!
KYM JOHNSON'S DWTS DIARY: PRACTICING FOR THE BIG PREMIERE WITH HINES!
I'm going to be thinking about our next dance tonight, concentrating in the hopes that we get through. Today is a day where we all just hang out, all the celebrities and dancers, we hang out at the studio all day. I'm about to go have lunch with everyone. It's really a day we all have fun with each other and get to know one another.
Article continues below advertisement
OK! VIDEO: WATCH KENDRA WILKINSON "TRY TO BE A LADY" ON DANCING WITH THE STARS
I think Kendra Wilkinson looked like such a beautiful lady on the dance floor. She did a great job — her posture was lovely, she was gliding across the floor, I think she did a great job and she's overcoming fears of getting out there. To all the celebrities, i take my hat off because it's very very scary to put yourself in a vulnerable situation like that.
Since Ralph Macchio is in the top spot, he's definitely a contender there because he did well last night and he did well the first night. Mark Ballas and Chelsea Kane — they took a big risk last night. I personally enjoyed it but that's the kind of risk you take. I'm pretty sure the fans liked it so they'll vote. eEeryone brings something different to the table and I don't want to see anybody go! It really has become bittersweet, because you don't want to leave, but you don't want to see anyone else go! It's the nature of the show though, it's a competition and someone has to leave. I hope it's not us!