NEWS
Kym Johnson's 'DWTS' Diary: Tonight's the Big Night!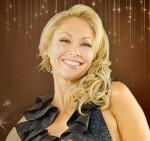 Hi, everyone, and welcome to my OK! blog! Every week, I'll be sharing with you all the behind the scenes stories as I train NFL wide receiver Hines Ward for this season's Dancing With the Stars, trying to make the Pittsburgh Steelers pro look as cool in the ballroom as he does on football field for season 12!
Tonight's the big night! Even though the premiere is tonight, Hines and I've been working on the second dance. Since we've been rehearsing five hours a day for three weeks, I wanted to switch it up and get him learning the new steps. We see the other dancers around the studios, getting coffee or snacks, but we haven't seen each others' dances because everyone is being pretty secretive. Kirstie Alley is lovely! And all the ladies have been talking about the height of their heels, whether they should be three or four inches, and then the men complain about their little bit of heels!
Article continues below advertisement
KYM JOHNSON'S DWTS DIARY: PRACTICING FOR THE BIG PREMIERE WITH HINES!
I took Hines to where they make the shoes, it's like a Willy Wonka shoe factory, because one of his feet is a little bit funky and he's been having trouble finding the right ones that fit. So he was sitting there surrounded by like, 50 pairs of shoes, trying on all different kinds. He was so happy!
I think he's just excited to get out there and perform. He's an athlete, so he's used to competing, and just focusing on what he needs to do and not others. I don't think he's nervous, just anxious to get out there and do what he needs to do. We even tape our practices and then watch the video afterward, so if he makes a mistake he can see it and correct it for next time.
OK! GALLERY: DANCING WITH THE STARS CASTMEMBERS LOOK READY FOR THE BIG SHOW
We have a little handshake we do for good luck, and we've been teaching each other lingo, so it's like we have our own little language. He's taught me some American slang, like he'll say, "let's get that dance tight," or he calls me shorty and says I should call him "playa" or "homie." I taught him to say "fair dinkum" which means that's the straight truth.