NEWS
Kym Johnson's 'DWTS' Diary: The Hoff's Big Cha-Cha-Chance!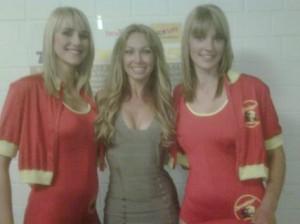 Hi, everyone, and welcome to my OK! blog! Every week, I'll be sharing with you all the behind the scenes stories as I train David Hasselhoff for this season's Dancing With the Stars, trying to make the former Baywatch star look as cool in the ballroom as he does on the beach. I'm thrilled to be partnered up with the Hoff for season 11.
As most of you know, I took a break from DWTS last season after winning season 9 with another show business icon, Donny Osmond. It was thrilling taking home the mirror ball trophy, but then I decided to take some time off.I had performed on three seasons of the Australian version of DWTS plus seven seasons in America, so it was nice to try some other things. I did some presenting and hosting, working for E! News, which was really fun. I got the chance to go back home to Australia and spend some time with friends and family as well. Now I feel refreshed and excited to be back.
Article continues below advertisement
OK! GALLERY: DAVID HASSELHOFF REHEARSES FOR DWTS
And wow, what a partner I've got for my return!I'd never met the Hoff before — I just knew him from Baywatch, Knight Rider, and America's Got Talent. He was huge in Australia so I saw all his shows. I started rehearsing with David three weeks ago. I actually flew to Hanover, Germany to meet him. Of course, he's so popular in Germany and his daughters Hayley and Taylor were performing their new single in Hanover. David got up and introduced them and sang a song as well and the audience went absolutely crazy.
He couldn't be nicer to work with. Obviously, dancing is very foreign to David — he's like, "What is this?" when I'm teaching him our first dance, the cha cha. His daughters convinced him to do the show and I don't think he realized how tough it was going to be but he's really trying hard. I think people might think David will just have fun with it but David is really trying to get the technique down and he's working very hard.
Article continues below advertisement
OK! NEWS: THE HOFF CHANNELS ELVIS PRESLEY IN DWTS REHEARSAL
So far, our partnership has been very smooth. He loves Australia, and I'm Australian! Believe it or not, we have some other things in common, too. Like me, he's quite a perfectionist; I don't know if people know that about him. He's got a really big heart and I think I do, too. David's a sweet person and we get along very well. But there's no romance brewing — we're just good buddies.
David has some strengths going into the DWTS competition — like he looks so good on the dance floor. He has such a presence when he walks into the room. Hopefully, he'll turn that on for the live show.He's not afraid to "go there" with the flamboyant costumes we must wear for dancing — and everybody's seen his Hollywood roast and knows he's definitely not afraid to make fun of himself! That's a really good thing going into dance training because you can't be self-conscious and worry what people are going to think. You have to throw yourself out there and that's what he's doing.
Article continues below advertisement
David's weakness is one of his shoulders. He lifts a lot of weights so in the ballroom, when he has to put his arms in the correct posture, we're having a bit of a problem with tightness in his shoulder.I have to think of something to fix this problem; I haven't come to a conclusion yet. I'm convinced we'll overcome it, though.
OK! NEWS: GMA ANNOUNCES DANCING WITH THE STARS PAIRINGS
Hayley has stopped by rehearsals to have a look and give us a few pointers. Hopefully Taylor will also be popping in soon.
When I was Donny's partner, we did abdominal workouts during dance training, and David likes to do that, too. We work on abs before starting because dance is about keeping your core strength. Without a strong core, you can't dance very well. We get his body loosened up with crunches, stretch his abs, hip flexors, and hamstrings. We do a lot of plank position. David's really into eating healthy, also. He likes egg white omelettes for breakfast.
Article continues below advertisement
OK! BLOG: KIM JOHNSON'S DWTS DIARY — WE DID IT!
I've met most of the other competitors because we all rehearse at the same studio. The Situation seems like a really nice guy and Bristol Palin is very sweet and shy. I think we'll see her blossom during the show.
Hopefully, our cha cha routine will be very entertaining. Tune into ABC to watch us on the big DWTS premiere tonight! And don't forget to vote for us, too!
Talk to you again after our performance.
Kym
Posing with some of David's Baywatch babes in Germany!