NEWS
Kym Johnson's 'DWTS' Diary: I'm So Proud of David!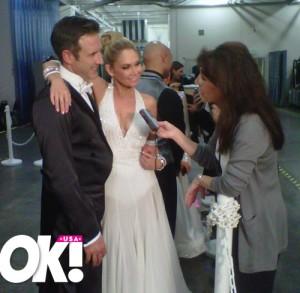 Hi, everyone, and welcome to my OK! blog! I'm so excited to be back for a new season! Every week, I'll share all my behind the scenes stories as I take David Arquette from dapper actor to ballroom great on this season of Dancing With the Stars. So glad you'll be joining me!
I'm feeling really good now that last night is over, I'm so proud of David, he did great! I think he's doing this and wanting to have fun, and it definitely means a lot of him. He's taking this very seriously and he wants to do really well.
Article continues below advertisement
KYM JOHNSON'S DWTS DIARY: STARTING A FRESH SEASON WITH DAVID ARQUETTE ON A NEW STAGE
I think what the judges said was completely accurate, that he does have to relax a bit more. I think he puts so much pressure on himself. I know that from teaching him, he definitely puts a lot of pressure on himself so he just has to relax! I think the judges were really nice to us and really kind. I think they want to see him do really well.
It was amazing last night, everybody was so good! Everyone brings something different to the floor, like Carson Kressley! I think he's absolutely hysterical. J.R. Martinez, I think he was amazing, his story is really inspirational and his dance was really beautiful. i think he's going to be around for a really long time. it's the first week, and everyone's really amazing. Chaz Bono is definitely a sweet, beautiful person, and that shines through his dancing.
Article continues below advertisement
Cross your fingers for us!
Kym