NEWS
Kym Johnson's 'DWTS' Diary: A Tough Goodbye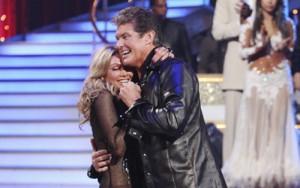 Hello, everyone! So sorry to have to tell you this is my last OK! blog for the season because David Hasselhoff and I were the first couple eliminated Tuesday night on Dancing With the Stars.
I was a little bit disappointed, I have to say because I was having so much fun with him and I was looking forward to doing a lot more. Obviously getting a score of 15 didn't help us out too much on Monday night. I admit we definitely lacked in technique but I thought we more than made up for it in entertainment value. I watched the performance back and I don't think it was all that bad. I just figure maybe the Hoff is such a pop culture icon that people felt he'd be okay and they didn't have to vote. That has happened before on DWTS and I think that's what it all came down to.
Article continues below advertisement
I'm going to miss the Hoff. I love him. David joked on Jimmy Kimmel Live that we can date now that we're not dance partners. He's so sweet and we'll definitely go to dinner and I'll be seeing him again. Maybe I'll make him take me to the beach and show me some Baywatch moves! But as far as a romance, there's none. Not right now, anyway.
But seriously, David really applied himself to this and he's had some bad press before and had sort of been down at the bottom and he's got a great attitude. He always says you've got to keep yourself going and move on to the next thing and not be afraid to put yourself out there. He's a big star and doing DWTS was really brave of him. He made me think of different things that I could conquer that I'd be afraid to do.
Article continues below advertisement
He's such a family man and so tender towards his daughters, who came to the show and cheered him on. I got to see a different side of the Hoff.
David was so determined to do well on the show that he got his knee fixed earlier on elimination Tuesday just in case we got through because he saw how good the rest of the couples were. He had the knee drained and cortisone shots put in. He had a really bad knee and had two operations on it before from a previous injury so that was kind of a struggle for us in rehearsals. He said, "I really want to try harder and give it everything I can in the next week." And then we got voted off! David told me he felt really bad I had to leave the show so early, which was really sweet. Now he's going to Laughlin to perform there, singing in his show. I think I might surprise him and go and visit.
I'll miss everyone but I'll be back covering the show as a correspondent for E! during the season and see all my new friends again. I had lunch with Florence Henderson and I think The Situation is such a nice guy. He gave me some pointers on how to build up my abs and get a situation of my own! He showed me all these ab crunches on his ITouch from his fitness DVD; he was showing me how to build my core. And he gave me and the other girls on the show jewelry from his own line. The Situation's gift to me was some beautiful rosary beads and a bracelet.
It's going to be such a competitive season. I can't pick a winner yet but I think Jennifer Grey, Rick Fox, and Kyle Massey look really strong. Now I can sit back and enjoy the show. Thank you all for the votes and support!