NEWS
'LA Ink' Canceled: Kat Von D Is Leaving TLC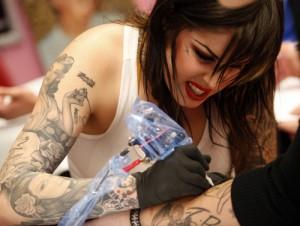 First Kate Gosselin, now Kat Von D. TLC has decided to cancel LA Ink, the tattoo maven's reality show —the same week the network announced Kate Plus 8 would not be renewed.
"TLC has decided that the current season of LA Ink will be its last," the network said in a statement today. "The network is proud of what the series has accomplished in its four seasons, following Kat Von D's journey as an artist from Miami to Los Angeles. The series finale will air Sept. 15 at 10 p.m.."
Article continues below advertisement
On Monday, TLC also announced that it would not be renewing another one of its hit reality shows — Kate Plus 8.
Kat has been in headlines recently for her split from fiancé Jesse James last month.
Then while she was promoting the new season of LA Ink, her scheduled appearance on Fox 11's Good Day L.A. imploded after Kat stormed off the set when the program showed a clip from her TLC reality show that included Jesse.
Her media firestorm led to Kat posting a lengthy note on her Facebook page, addressing her recent actions.
In the note, called "What Can I Say? I Suck" Kat addresses her abrupt departure from the show and her breakup from Jesse.
"In my relationship I never before felt as solid and strong — even though the world said different by all the criticism," she wrote. "Lost a lot of friends, and even caused turmoil within some of my family members because of the bulls**t the media put out there."
"Some fans even changed their perception of who they thought I was," she continued, adding that she "never planned on walking away from this relationship, let alone the timing of things."
Do you think her recent actions prompted TLC to cancel the show? Sound off in the comments.