NEWS
La Toya Jackson Brings Michael Jackson's Kids Out to Support Red Cross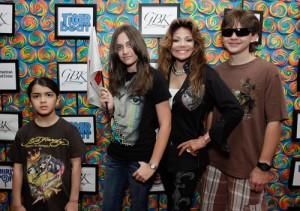 La Toya Jackson is making sure that her brother Michael Jackson's children have the opportunity to continue their father's legacy of charitable giving. Yesterday the doting aunt brought Prince, Paris and Blanket out to the GBK Kid's Choice Awards gift lounge at the SLS Hotel in L.A. to support the Red Cross Japanese Relief Fund. She chatted exclusively with OK! about how the kids asked to help Japan and how they're adjusting to life without their father.
Article continues below advertisement
While under the watchful eye of their aunt La Toya (and of course, a few bodyguards), the three siblings did what any normal kids would do, and made a beeline for the array of candy! Blanket filled up his bucket and carried it around, while Paris and Prince also checked out the sweet treats. Paris even got some stylish Feather Heads hair extensions while her brothers played with toys at the Hasboro game table. GBK is giving 20 percent of the proceeds from the event to the Red Cross Japan Relief Fund.
OK! VIDEO: WATCH LA TOYA JACKSON DISCUSS MICHAEL JACKSON; CELEBRITY APPRENTICE WITH ELLEN DEGENERES
Toward the end of their time hanging out at the suite, Blanket even bashed open a pinata in just two tries, and ran over to show his sister what was inside.
Meanwhile, La Toya chatted exclusively with OK! about the spirit of giving in the Jackson family, and why the Red Cross is so important.
"I think any charitable event is very important and I don't know if you know that my brother, their father, was just giving to everybody — $400 million of his personal money he gave to charity — and I support every penny of it," La Toya explained to OK!.
Article continues below advertisement
The kids even asked her to help Japan!
"They said that they don't mind doing and giving whatever," she revealed to OK!. "It was so sweet. They say, 'Can we give our clothes to them?' It's really sweet."
OK! NEWS: TITO JACKSON REMEMBERS ELIZABETH TAYLOR'S LOYALTY TO MICHAEL JACKSON
Almost two years after the King of Pop passed away, La Toya says the family has rallied around Prince, Paris and Blanket, and everyone is adjusting to his loss.
"We are always out and spending as much time as we can together," La Toya explained to OK!. "I go to the house and we play games with them and talk to them and make sure that everything is going well.
Reporting by Gena Oppenheim