NEWS
Lacey Schwimmer Talks Rob Kardashian & Reveals Her Pick for 'Dancing with the Stars' Finale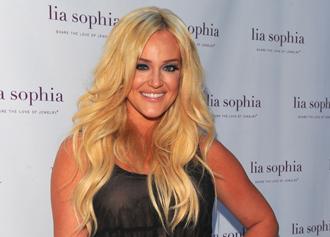 It's down to three on Season 13 of the ABC hit competition Dancing with the Stars.
DWTS professional Lacey Schwimmer chatted with reporters Sunday at Rolling Stone's American Music Awards Afterparty about her pick to win this season and her very interesting relationship with finalist Rob Kardashian.
OK! NEWS: HOPE SOLO GETS ELIMINATED & J.R. MARTINEZ IS "RELIEVED, THRILLED" FOR 'DWTS' FINALE
Lacey, who partnered with Chaz Bono until he was eliminated in week 6, wouldn't say who she thought would take home the gold later this week. She did, however, admit who she personally wants to win: U.S. Army veteran and All My Children star J.R. Martinez.
Article continues below advertisement
"He's by far the most real and kind human being who's ever been on this show," Lacey gushed. "He's super talented and super fun."
OK! NEWS: J.R. MARTINEZ LANDS TWO PERFECT SCORES ON 'DWTS'
J.R. has some tough competition, though. In the two-part finale, which airs Nov. 21 and 22, J.R. will be going up against both reality star Rob and TV host Ricki Lake.
"Rob is very personable," Lacey admitted to OK!. "And there's big Kardashian votes, you have to put that into play."
Article continues below advertisement
It appears to us as though Lacey has a bit of a soft spot for Rob!
OK! NEWS: ROB KARDASHIAN HAS KIM'S BACK: "WE SUPPORT ANYTHING MY SISTER DEALS WITH"
"Rob and I tackle each other," she revealed. "We have this thing where I feel like I could take him down, which I have one or two times, but he's generally a lot larger than I am and yeah, he just kind of sits and I fall. But no, we tackle each other and he tries to tickle me. It doesn't work. We're like brother and sister. It's kind of weird."
Reporting by Gena Oppenheim