NEWS
Lady Gaga Performs on 'Jimmy Kimmel Live!' & Confirms "You and I" as Her Next Single!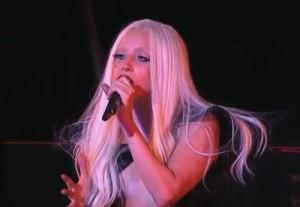 Lady Gaga not only sat down and chatted with Jimmy Kimmel last night, but she also proudly took the stage to play her hit songs! In addition to performing "Edge of Glory," Lady Gaga revealed that her new single is "You and I."
OK! NEWS: LADY GAGA CRIES & JUMPS FOR JOY AS SO YOU THINK YOU CAN DANCE GUEST JUDGE!
When Jimmy asked Lady Gaga what other songs she'd be performing on his show, Lady Gaga revealed (via MTV News), "I'm going to sing my brand-new single 'You and I.' "
Article continues below advertisement
It's not really a surprise to her fans, but at least it's finally confirmed!
In addition to giving fans a very entertaining performance, Lady Gaga gave a very entertaining interview.
Jimmy asked the singer if she ever wanted to have little monsters of her own.
"Do I want to have kids? Someday... long, long day from now," she said.
And Lady Gaga joked around about whether or not she'd love her kids if they didn't turn out to be gay.