NEWS
The Lady Isn't Gaga About 'Don't Ask, Don't Tell'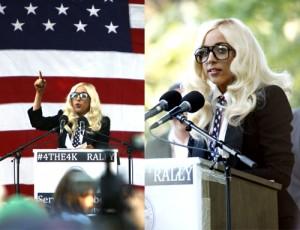 Lady Gaga spoke out against the military's "don't ask, don't tell" policy which targets gay soldiers, in Portland, Maine yesterday. The Grammy-Award winner stood alongside veterans who had been discharged because of their sexuality at a rally at Deering Oak Park, the day before a crucial Senate vote, as they urged Maine's senators the repeal the regulation.
Gaga is an passionate activist for the LGBT community and uses her fame to try and and promote change and equality. The singer's most recent video for her hit song "Alejandro" has an overtly homoerotic and military feel, positioning it as a critique on the policy she was fighting against in Maine.
Article continues below advertisement
OK! VIDEO: LADY GAGA SENDS A LONG STATEMENT TO THE SENATE
Last week at the MTV Video Music Awards Gaga showed up with multiple ex-soldiers who had left the service due to the "don't ask, don't tell" policy.
Unlike at the VMAs where Gaga sported an extravagant Alexander McQueen outfit, a daring Armani, and an interesting meat ensemble, the Lady chose a simple black suit and a pair of glasses for the rally, ensuring that it was what she was saying, not what she was wearing that people were paying attention to.