NEWS
Lamar Odom Stays "Patient" With Scott Disick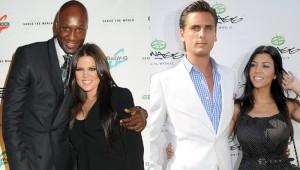 While Khloé Kardashian Odom stays mum, hubby Lamar Odom and family friend Adrienne Bailon speak out one day after the shocking episode of Kourtney fleeing domestic violence airs.
Lamar, who married into the Kardashian family last year, is hopeful Scott will change his violent ways. (He smashed a mirror on Sunday's episode of Khloe and Kourtney Take Miami, which led Kourtney to pack up now seven-month-old son Mason and take shelter at a pal's house.)
Article continues below advertisement
Adrienne, who dated Robert Kardashian, didn't tune into the episode in question.
"Anytime I'm around him, he's a normal, cool guy," she says of Scott. "I don't know how they worked it out, but I know that they're doing fine. I hung out with them the other day."
OK! EXCLUSIVE: SCOTT DISICK'S BIGGEST OUTBURST YET
When I tell her about the mirror-smashing incident, she shudders.
"Ohh," she sighs. "That's not good."
Article continues below advertisement
What would Adrienne tell a woman with a baby in that situation?
"They definitely should get out of the violent situation. No home should be in a violent situation. People should learn how to control their anger."
OK! COVER STORY: KOURTNEY VS. KIM — IT'S WAR OVER SCOTT!
When asked whether Kourtney, 31, is behaving responsibly, Adrienne calls her an "amazing mother."
Still, she's noncommittal when asked whether the couple will marry.
"I think if it's something they want to do, then maybe, but I think right now, they're happy, and Mason is the most beautiful baby ever," Adrienne says. "He's the happiest baby. I think that's what they're focused on right now – making sure that their child has a good childhood."