NEWS
Larry King Drops His Suspenders For Good; Last Show Tonight For Legendary Broadcaster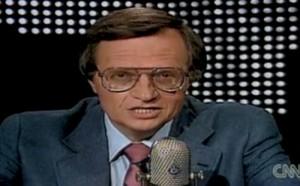 After 25 years on national TV, tonight is the last show on CNN for legendary host Larry King. The 77-year-old broadcaster has interviewed tens of thousands of the world's most notable people — from Nelson Mandela and the Dalai Lama to Marlon Brando and Barbra Streisand — is now hanging up his iconic suspenders and saying goodbye to Larry King Live.
Ross Perot announced his presidential candidacy on Larry's show, and the recently deceased Elizabeth Edwards talked about her internal struggles over husband John Edward's affair.
Article continues below advertisement
A teaser on CNN for tonight's final show reads: "The end of an era (cue the tears)! Larry hangs up his suspenders after 25 incredible years on CNN. We've got a bunch of surprises for him – and you. Don't miss it!"
Former British newspaper man and judge of NBC's America's Got Talent, Piers Morgan, will take on Larry's CNN primetime slot with is own interview program on the network.
OK! NEWS: PIERS MORGAN WILL "KICK SOME RATINGS BUTT" IN LARRY KING'S SPOT
"I am thrilled to be joining CNN, and very much looking forward to bringing my own style of interviewing to the world's biggest, and best, TV news organization," Piers said of his new gig. "As a young journalist in Britain, I watched CNN's astonishing live coverage of the 1991 Gulf War, and felt enthralled by the courage and brilliance of the journalists involved in that coverage."
Catch this recap of 25 years of Larry King Live in three minutes!
A suspender-less Larry Kings talks about his radio career. (1982)