NEWS
Larry King Drops Tila Tequila from Casey Johnson Tribute Show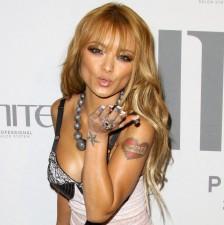 Larry King has canceled Tila Tequila's appearance to discuss her (rumored) late fiancée Casey Johnson on his show tonight — but the internet pin-up doesn't care.
"I'm not pushing for them to change their minds cuz honestly, my fanbase demographic and to the people that matter to my career dont watch Larry King," she wrote to E! Online in a typo-littered email.
"Yes he is a huge credible person, but really not someone a young demographic of people watch."
Article continues below advertisement
Tila was scheduled to be the Larry's sole guest tonight for a show that was being billed as a tribute to the late Johnson & Johnson heiress.
However, Casey's friends and family members urged Larry to pull the plug on the reality TV star.
She's been replaced by the slightly more sedate authors of the best-selling political book Game Change, and an interview with the third White House party-crasher.