NEWS
Veteran Talk Show Host Larry King Confesses He Wanted To Die After Stroke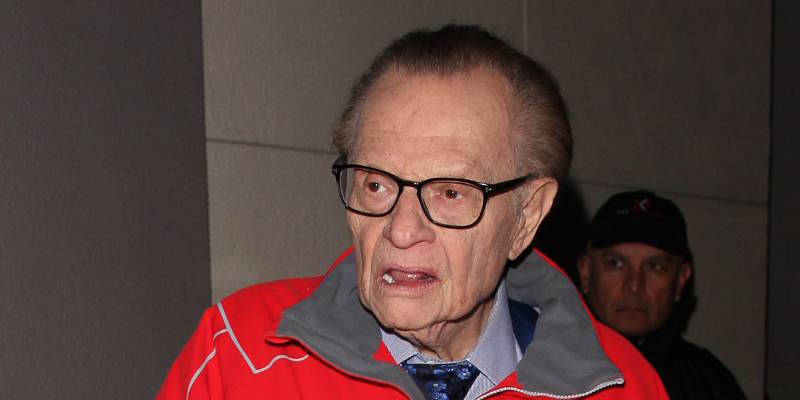 Veteran broadcaster and talk show host Larry King revealed that he wanted to commit suicide after his traumatic stoke last year.
He told Dr. Robi Ludwig on her YouTube show that after his stroke, he was in a coma and has almost no memory of the incident. King had heart surgery in April 2019 to reopen a previous bypass from a heart attack he had in 1987, and just a month later he had the stroke.
"I was in a coma, and I can't remember anything. I see pictures of myself in the ICU and I can't believe it. That I was in that bad a shape. I was really in bad shape," he said.
Article continues below advertisement
"When they told me everything that happened to me, I looked at myself and said 'I have done everything I could do in a fanatic career'. Such gratitude for what I have been able to do. There are no more plaudits I can receive, there are no more Hall of Fames I can get into. My kids are (all) grown (up now)."
It was at this point when he asked his son to help him end it all.
"I said to my 21-year old son 'I want to buy it. Can you find me a pill with which I can just exit the planet?' I'm ready to go, I want to go'," he revealed.
Article continues below advertisement
He also said in a previous interview that he has never thought about committing suicide since. "But that was a passing thing. I never had that thought again, or before."
After the stroke, King had problems with mobility – which he found to be incredibly frustrating.
"It's been a rough year. I get mad. When I have to be helped into a chair it's like, 'Come on.'"
King is no stranger to illness. The long-time smoker was diagnosed with stage 1 lung cancer in 2017. He was also and diagnosed and treated for prostate cancer, and has type 2 diabetes.
He realizes that he might be very close to the end of his natural life and has somewhat made peace with it.
"I have less of a fear of dying now. I'm 86 and it is what it is. I just want to keep working until the end. I'd like to die at work—I'll retire right there! I'm very proud of what I do, and I'm a good father—nothing beats parenthood. There's an element of pinching myself every day. Look at what I've come through. All in all, if you look at it, I've had a blessed life," he concluded.