NEWS
Last Night's Fallen Four Eliminated Idol Singers Speak Out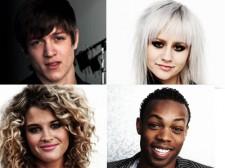 The four eliminated roommates from this season of American Idol sat down for a press conference call this afternoon to answer the questions that had been on everybody's mind since the elimination last night. Alex Lambert, 19, who was visibly during last night's show, opened up about what was going through his mind when he was told that he'd been eliminated.
"It was emotional," admitted Alex, "pretty much because a lot of people weren't expecting the people that went home to go home... I think it was just a shock." He also says that he had been nervous about eliminations the whole day, even though fellow castmate Siobhan Magnus repeatedly tried to calm him down.
Article continues below advertisement
OK! GALLERY: THE TOP 12 AMERICAN IDOL CONTESTANTS CELEBRATE
Alex also admits that his biggest problem was the fact that he did not have much experience performing on stage. "In my head I was thinking to nail the song vocally and I wasn't really worried about performing," and said that before this, he had only performed in coffee shops. He apologized to his fans, saying "I wish I could have at least got on stage and enjoyed what I was doing out there because I really wanted to show everyone that I love it."
After a quick appearance on Ellen DeGeneres' show later next week, Alex said it was back to Texas for him, but he did say that he would like to continue working on his music, including taking vocal lessons. While he said he'd like to do acoustic and R&B, he also stated, "I'm not just one genre of music."
When asked if the stylists on American Idol ever asked him to cut his mullet, Alex put it simply: "I wouldn't want to ever cut my mullet."
Article continues below advertisement
OK! NEWS: GENERAL LARRY PLATT'S "PANTS ON THE GROUND" INVOLVED IN LAWSUIT
Alex's roommate, Todrick Hall, 24, was also eliminated on last night's show. The Arlington, Texas native said that he felt his musical style did not translate well for his demographic.
"I got so many messages saying 'Sing Usher. Sing Chris Brown. Sing Ne-Yo.… any black artist basically because that's your demographic', but that's not the kind of music that I want to sing." While he said he felt happy to have stayed true to himself, he did think that had he sang the "cookie-cutter songs' that he would have stayed longer.
Todrick also commented on his supposed musical scam scandal, admitting that while he didn't know what he was doing, he never handled any of the money. He added, "I'm not a scam artist. I'm a nice person. I'm just an ambitious kid that got wrapped up with a producer that didn't know what he was doing."
As for his future, Todrick seems to have only one dream – Glee.
"I would love, love, love to be on Glee."
Article continues below advertisement
OK!'S AMERICAN IDOL LIVE BLOG: THE TOP 12 REVEALED!
Two other roommates were also booted out as well. Lilly Scott, 20, and 19-year-old Katelyn Epperly were the two women voted out last night.
Katelyn, an Iowa native, said it was back to Des Moines for her, but she did say that she planned to continue her music career as well, saying she would be recording "as soon as she possibly can", and even had plans to collaborate with the band Love Drug.
"Just to get out and play and sing again would be awesome" says the 19 year old blonde, "Keep watching… Look out for me."
OK!'S AMERICAN IDOL ROUNDTABLE: ANOOP & DIANA DISH ON RESULTS SO FAR
Katelyn said that while her time on Idol was short, she did look back with lots of fond memories.
"I'm in my element when sitting behind the keys," she said, as she explained that her favorite memory was getting to sing Coldplay's "The Scientist."
Article continues below advertisement
Katelyn also explained her delight in having actually made friends on the show.
"Lilly, Crystal Bowersox, and I have gotten really close."
She also wished all of the contestants good luck on the rest of the competition, but said that she was rooting for Crystal to take the competition.
"She's a genuinely good, true person. When she sings, it comes from the heart… She totally deserves it."
Roommate Lilly also looked forward to moving on with her career.
CLICK HERE FOR ALL OF OK!'s AMERICAN IDOL NEWS & PICS!
"I really just wanted to break the mold, and kind be that offbeat contestant that did exactly what I wanted to." She said of her time on Idol. She admits that she felt her fan base wasn't there, leading to her elimination.
By Cristina Moreno