NEWS
OK!'s Idol Roundtable: Anoop & Diana Dish on Results So Far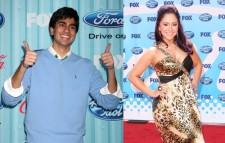 Of the more than a million people across the country who have auditioned for American Idol, only a few dozen know what it's truly like to live the Idol life. And that's why OKmagazine.com brings you Idol Roundtable, where this week, former finalists Anoop Desai and Diana DeGarmo will share their insider insights on the season thus far.
"I was most shocked to see Michelle leave. I really liked her voice and style," admits Diana of one elimination last week, adding that it's not always easy to sing your way off the show.
Article continues below advertisement
"Since the pressure is gone it's usually EASIER to sing the'singoff,' but at the same time your emotions are at a peak because you've just been cut from the show; so if you're like me, it's HARDER!" Diana explains.
OK! NEWS: OK'S IDOL ROUNDABLE — ANOOP & DIANA DISCUSS THE FIRST RESULTS SHOW
For his part, Anoop wasn't really blown out of the water about a lot of those being sent home thus far.
"I wasn't surprised about the guys at all," he says. "I was surprised with the girls, though. I thought both of them did a decent job, and for as much commercial appeal as they have, I figured them to stay around at least another week."
OK! NEWS: OK'S IDOL ROUNDABLE — BREAKING DOWN HOLLYWOOD WEEK PART 1
Anoop agrees that having been eliminated makes it easier for contestants to sing their hearts out, explaining, "It definitely has to do with the pressure being gone. You're also trying to show people, 'Look, I didn't deserve to go home.' "
Both Diana and Anoop loved seeing Danny Gokey perform last week, praising the former Idoler.
"It's always nice to see successful past Idols come back to perform like Danny Gokey did," says Diana. " ?I think it would be a total trip to sing on the Idol stage again. I haven't stepped foot on that stage in six years so it would probably be like a stepping into a time warp!?"
"My boy Danny is scorching with the new single," chimes in Anoop. "You can't not be excited to return to that stage. It's the site of everything that has gotten him to this point, and I know he feels blessed to be there."