NEWS
The Last Word with Kristen Bell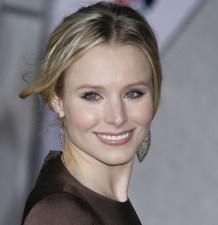 The When in Rome star Kristen Bell dishes to OK! about the last time she was mistaken for another celebrity. Can you guess who?
Last Time I Laughed
It was at "Video Mate." YouTube it.
Last Time I Lied
No, I did not eat the rest of the Halloween candy two months later...I threw it all away.
Last Thing I Ate
A bowl of Fruity Pebbles.
Last Time I Was In Rome
Two summers ago. I have the moped-exhaust-pipe scar on my leg to prove it.
Article continues below advertisement
CLICK HERE TO VIEW PICS OF KRISTEN AT THE PREMIERE OF WHEN IN ROME!
Last Meal I'd Like To Eat Before I Die
Burrata cheese. I would like to drown in a tub of Burrata.
Last Song I Downloaded
"I See You," by Leona Lewis.
Last Time I Was Mistaken For Another Celebrity
Yesterday. No, I am not Tiger Woods' wife, but, yes, he is in trouble.
Last Time I Enjoyed A Girls' Night Out
We didn't go out, but I did just play an intense game of Bananagrams with my sisters...till the wee, small hours of the morning.
CLICK HERE TO READ LAST WEEK'S LAST WORD WITH MARK MCGRATH!
Last Weird Dream I Had
I was being chased around an endless sandbox by a giant lobster.
Last Time I Felt Envious
When I walked by someone who was taller than I am...I mean, when I walk by everyone.
Last Time I Hit The Snooze Button
Today, yesterday, the day before that, the day before that, four days ago, five days ago, last Saturday and Sunday....
Reporting By Valerie Nome