NEWS
Lea Michele, Chris Colfer & Cory Monteith Aren't Leaving 'Glee' After All!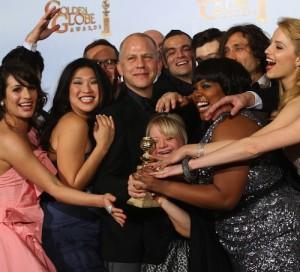 Less than two weeks ago, Glee creator Ryan Murphy confirmed that Lea Michele, Chris Colfer and Cory Monteith's characters will graduate from the show and thus, so will they. Rest assured, Gleeks can rejoice today since the executive producer indicated a glimmer of hope at Comic-Con. Just 'cause their characters will graduate doesn't mean they're leaving the hit show so soon!
OK! NEWS: EMMY NOMINATION SNUBS — LEA MICHELE, DARREN CRISS & TRUE BLOOD TOP THE LIST
Article continues below advertisement
Executive producer Brad Falchuk told the Comic-Con audience (via TV Line), "Here's the exact thing: Rachel, Kurt and Finn are seniors, so they're graduating, but because they're graduating doesn't mean they're leaving the show. If you have Lea Michele under contract, you don't say, 'We're gonna let you go.'"
Brad emphasized it so much that he repeated it twice! "It was never our plan or our intention to let them go….They are not done with the show after this season."
OK! NEWS: CHRIS COLFER SAYS HE LEARNED HIS GLEE FATE FROM TWITTER!
He did confirm, however, that Chord Overstreet will not return this fall. He was originally offered to return for 10 episodes to become a regular at midseason but alas, Chord nixed the deal much to Brad's disappointment.
Brad explained, "We wanted him back because we like Chord personally and had some good stories planned for him and with Mercedes. He decided he would have opportunities elsewhere that he would like to pursue, and we can't force him to work, so we wished him well."