NEWS
Lea Michele, Chris Colfer & Cory Monteith Will Graduate from 'Glee'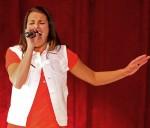 Don't look now but at the end of the third season, Lea Michele, Chris Colfer and Cory Monteith will not return to Glee. Gasp! In fact, sounds like the next season will emphasize planning for the future beyond high school considering more characters are leaving than staying. Find out more after the jump!
Co-creator Ryan Murphy told The Hollywood Reporter that it's time to sing and dance their characters into the sunset. "You can keep them on the show for six years and people will criticize you for not being realistic, or you can be really true to life and say when they started the show they were very clearly sophomores and they should graduate at the end of their senior year."
Article continues below advertisement
It sounds like the season premiere on September 20 will be a doozy — they'll announce who's graduating and who's going to stay! "We've never done anything by the book," he explained. "We made that decision and I involved Chris and Lea and they thought that was a good idea. They both trust the writing and trust me and felt that it would be great to have an open and closed experience for them to go out while they were on top."
OK! NEWS: CORY MONTEITH WENT TO REHAB AT 19 FOR DRUG ADDICTION — "I HAD A SERIOUS PROBLEM"
Considering Lea, Chris and Cory won't be the only characters to leave, the new writers will have their work cut out for them. Focusing more on the future and college talks with parents, the stories this season will be more future-focused than relationship-centric. He added, "I'm much more interested in Lea's character -- not so much on her relationship with Finn, but more on what her dreams are beyond high school and how she plans on getting them."
Now that the news is official, which character will you miss the most? Calling all Gleeks, share your thoughts in the comments!