NEWS
Lea Michele Recalls Ashton Kutcher's Naked Towel Prank: "I Might Have Blacked Out"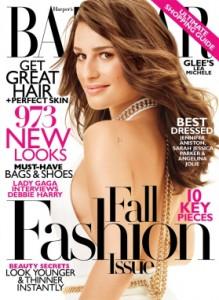 Article continues below advertisement
In the new issue of Harper's Bazaar, Lea explains how her boyfriend Theo Stockman doesn't get jealous of the things she has to do for her career — even if that involves kissing Ashton!
In her upcoming romantic comedy with the new Two and a Half Men star, Lea was lucky enough to get to share a kiss with him.
"It wasn't enough," she says.
Hey, it's more than most of us can get, Lea!
But there was another highlight for Lea involving the handsome actor on the New Year's Eve set.
Ashton played a joke on her — he opened a door while nearly naked, with nothing but a towel covering him.
If he'd dropped it, "I might have blacked out," Lea says.
We wouldn't have blamed her!
OK! NEWS: GLEE CREATOR REVEALS SPIN-OFF IS ON HOLD & CONFIRMS "NOBODY WAS FIRED"
And while she would have liked more than just a kiss with Ashton, Lea doesn't sound like the diva she is sometimes rumored to be.
"People have to remember this is all new for us," Lea explains. "We're all reasonably young, except for Cory Monteith, who's old (29)."
"I've learned some lessons," she admits. "But people are going to say what they want to say. I know who I am, and I'm not perfect."
Some fun, little known facts we learned about Lea from the rest of her lengthy Harper's Bazaar interview: She's obsessed with the Bravo Housewives, and she loves Teresa Giudice and Skinny Girl margaritas!