NEWS
'Glee' Creator Reveals Spin-Off is On Hold & Confirms "Nobody Was Fired"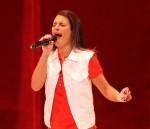 Oh, what a wild ride it's been! Recently Glee creator Ryan Murphy indicated some of our faves, Lea Michele, Cory Monteith and Chris Colfer will be leaving the show after season three. Then, at Comic-Con last week executive producer Brad Falchuk indicated they're not leaving after all. As for the latest scoop? Just last night Ryan revealed there were plans to create a spin-off but it's currently on hold until they resume talks until April, at the very least.
Article continues below advertisement
In fact, in an interview with Deadline, Ryan mentioned the spin-off was in talks with the actors and studio and as in the past tense: "We were. Not now." So, where exactly did things go wrong? Ryan mentioned they weren't allowed to talk about a spin-off since it was too soon and too premature; things sound like they got complicated once there were misconceptions the stars were fired and tweets were sent mentioning they found out they were axed via the social networking site.
Article continues below advertisement
OK! NEWS: CHRIS COLFER SAYS HE LEARNED HIS GLEE FATE FROM TWITTER!
He explained, "The idea was to do it this fall when Glee gets back on the air. Then, to pick up and read the actors saying, 'We found out we were fired from Twitter.' All of us, the studio, the network, were like, 'OK, that isn't exactly cool,' because we involved all three of them in that decision. So then what happened is that we decided, 'OK, let's not do it.' "
OK! NEWS: EMMY NOMINATIONS SNUBS — GLEE'S LEA MICHELE, DARREN CRISS & TRUE BLOOD TOP THE LIST
Right now Ryan's focus is concentrating on making season three the very best it can be! And also, setting the record straight in last night's interview with Deadline: "When I say they're seniors and they're not coming back to the show, what I did not say is they're not coming back to the show because there will be another show. What Brad Falchuk said this weekend at Comic-Con is now correct: they're graduating. What we wanted is to get people away from this idea that the actors were fired which is ludicrous. Nobody was fired. They were talked to for months about the show."