NEWS
OK! Old School: Happy Anniversary, Spring Awakening! Watch Vintage Clips of Lea Michele And Her Famous Friends on Broadway
I usually don't believe in coincidences, but I do find it odd that the day that Lea Michele's first solo single, "Cannonball," premieres to the world is on the seventh anniversary of Spring Awakening. Of course, Lea Michele got her acting start on the Broadway show, so clearly this is the definition of full circle.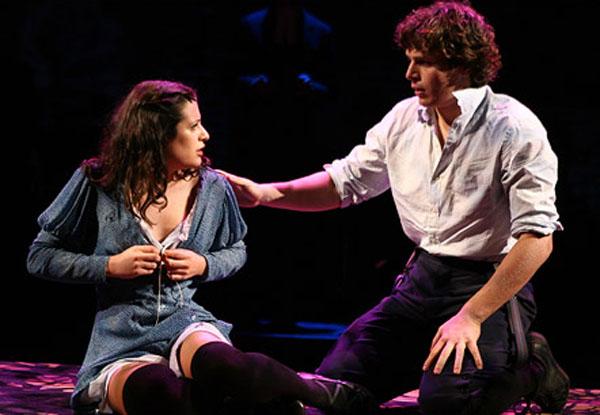 Some of the show's original cast will be celebrating its anniversary with a live Facebook Q&A tonight at 8pm ET, but meanwhile, I'll be here watching all these amazing clips of Lea Michele, Jonathan Groff, Jenna Ushkowitz and other now-famous stars when they were itty bitty theater kids (who happened to have won a whole bunch of Tony Awards). Watch with me:
Article continues below advertisement
If you're curious as to why Lea and Jonathan are BFFs to this day, it's because for years they had to perform really intimate scenes on stage together numerous times a week. Lea even got topless on stage! PS, that's this scene, so beware that this is NSFW (even though it's art and not pornography):
youtube=https://www.youtube.com/watch?v=bar1GRem8rs&w=640&h=360
But not all the scenes involved nudity. Here's another clip of Lea, Jonathan and John Gallagher Jr, who's now famous for Newsroom.
youtube=https://www.youtube.com/watch?v=3R2kvWjUJ1w&w=480&h=360
OK! Poll: Vote For Lea Michele at the TCAs As The Best Awards Show Moment
In case you're still not sure what Spring Awakening is, here's a semi-fuzzy video of the entire show, start to finish. Pretty sure the person who filmed this is going to jail.
youtube=https://www.youtube.com/watch?v=vgwWdz9U2OU&w=480&h=360
In 2007, the cast performed "Mama Who Bore Me" at the Tony Awards, where they subsequently won lots of awards for Best Musical. Recognize that girl around the 1:38 mark? No big deal but that's Phoebe Strole, who now plays the hot nurse who flirts with Sam on Glee.
Article continues below advertisement
youtube=https://www.youtube.com/watch?v=hYFKWVK7wq4&w=480&h=360
And if you're wondering who that guy is at 3:07, that's Skylar Astin from Pitch Perfect! He wasn't part of the original Spring Awakening cast, but he joined later on in the role of George. He and Lea are still besties, which is also cute.
youtube=https://www.youtube.com/watch?v=Q0vrMnhQ7RE&w=480&h=360
Jenna Ushkowitz, aka Tina Cohen Chang, also joined the production after it started, playing an understudy for some of the main characters. Here's her audition tape: