NEWS
LeAnn Rimes Compares Weight Loss Media Hype to 'Bullying'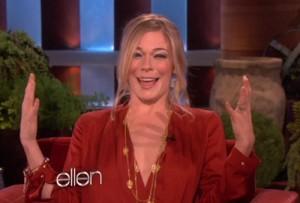 LeAnn Rimes stops by the The Ellen DeGeneres Show today and opens up about how the media has "bullied" her over her weight loss and addresses other rumors surrounding the singer and her affair-turned-marriage to Eddie Cibrian.
"I've kind of gotten over it when it comes to do with myself," LeAnn told Ellen of the reports calling her scary skinny, and suggesting she has an eating disorder. "Like you said, these are diseases and using them as name calling, it's almost bullying."
Article continues below advertisement
OK! NEWS: LEANN RIMES BLOGS ABOUT BEING A STEPMOM — 'I'LL NEVER REPLACE' BRANDI GLANVILLE
"I feel a sense of responsibility for the people that are actually going through these diseases and I'm not one of them," she added.
Ellen then asked for LeAnn to confirm that she is "not anorexic in any way or bulimic at all," and LeAnn responded, "No, I am not but I do feel like the press … they've been very irresponsible calling a lot of people, fat or anorexic or bulimic or whatever It may be.
"It seems like bullying now," she continued, "instead of really taking these diseases seriously that a lot of people are going through."
"That's good that you got to clear that up," Ellen chimed in.
Even her husband Eddie Cibrian told Access Hollywood recently that LeAnn is all about working out to stay healthy, adding "she eats more than I do sometimes!"
Article continues below advertisement
"She eats pretty healthy, but she works out pretty hard too, and she actually takes pride in the way she looks," Eddie explained. "It's a shame that people will jump on the bandwagon just because she is fit —and she's far from unhealthy."
As for her controversial marriage to Eddie, LeAnn said it's hard for people to judge when they "don't know the whole story," and she loves the role of stepmom to his two sons.