NEWS
Leo Goes Clubbing With Galpal Bar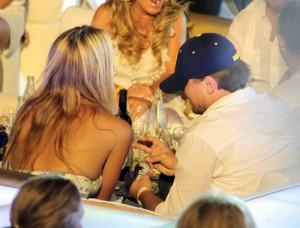 Leonardo DiCaprio and his girlfriend Bar Rafaeli got cozy while clubbing in Sardinia, Italy last night with some friends. The pair was joined by Naomi Campbell and Vladimir Doronin to celebrate the birthday of Fawaz Gruosi, founder and president of de Grisogono jewelry. Leo and Bar looked to be in good spirits and enjoying each other's company even in the crowded club.
Article continues below advertisement
It's good that Leo has a shoulder to lean on right now, since he might not be in the best of moods. Inception is no longer leading the box office, as The Other Guys, a comedy starring Will Ferrell and Mark Wahlberg, stole first place this weekend.
Leo might be back on top soon though, rumors are flying that he's very close to asking Bar to marry him! He supposedly has already asked his mother to help him pick out a ring! Wow, Leo, just when we thought you couldn't get any more attractive, you do something as adorable as that!