NEWS
"Let It Be" Celebrity Cover Obtained Under False Pretenses?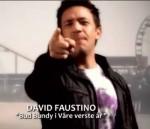 What are has-been celebrities without drug, alcohol or weight problems supposed to do to get noticed these days? The answer: make a very, very strange promo for Norwegian TV show Gylne Tider in which it seems every B, C and D-list celebrity from the 80s and 90s sing a cover of The Beatles' "Let it Be." But one of the actors in the video is claiming he was tricked into filming the promo.
The "Let It Be" cover went viral earlier this month, making thousands wonder why everyone from Steve Guttenberg to Glenn Close to Jason Alexander would agree to make a promo ad for a celebrity talk show in Norway. Now, David Faustino might have revealed the answer.
Article continues below advertisement
The former Bud Bundy went on to say that the singing portion was only sprung on him at the end.
IN THIS ISSUE: WHAT WOULD THE REAL RENESMEE LOOK LIKE?
"They were, like, 'We're putting this video together and it's for charity,' " he says. "At least I remember I THOUGHT I was doing something good for somebody."
Thankfully, David doesn't seem to be carrying a grudge. When asked how he felt about the video being made under false pretenses, he preached the message of the song, saying: "Oh well. Live and learn. F**k it. Let it Be."