NEWS
Levi Johnston is Cool with Conan O'Brien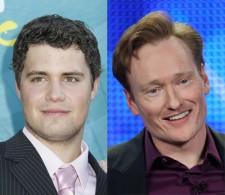 It seems everything is copacetic between Levi Johnston and Tonight Show host Conan O'Brien: after Tweets that were supposed to be from the young dad were read on the show by William Shatner proved false, the flame-haired host apologized last night.
"Apparently the tweets that we read were counterfeit," Conan said, saying he'd woken up to "shocking news." "They were written by a clever impostor posing as the witty Levi Johnston. And the real Levi is very angry with us now." He continued, "I'd like to personally apologize to Levi Johnston and his lawyer and publicist for misrepresenting him in any way."
Article continues below advertisement
Levi tells Entertainment Tonight he's all good with Conan, saying, "I'm glad I gave him something to talk about on his show. Obviously it's good that I'm on there."