NEWS
Levi Johnston & Sunny Oglesby Make Their Relationship Facebook Official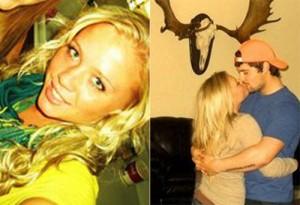 Things seem to be heating up between Levi Johnston and his latest girlfriend Sunny Oglesby. Bristol Palin's ex-boyfriend/baby daddy and the 19-year-old daycare instructor have taken their relationship to the world of social networking and are now Facebook official.According to Sunny's Facebook page, she is "in a relationship" with Levi. A photo of the duo smooching also alludes to things heating up between the duo.
Article continues below advertisement
OK! VIDEO: LEVI JOHNSTON STEAMS UP SMALL SCREEN IN BRITTANI SENSER MUSIC VIDEO
Sunny is originally from Oregon, but currently resides in Wasilla, Alaska and is working at an elementary school daycare as well as teaching preschool on the side.
OK! NEWS: BRISTOL PALIN "HAPPY" FOR LEVI JOHNSTON AND NEW GIRLFRIEND
Looks like Sunny will be very helpful with Levi's son Tripp, who turns two on Dec. 28. Sunny's "About Me" on Facebook reads: Lifes not so bad :) Sunny Rae Camilla Oglesby is the name. Well I'm 18 years old... I live in Alaska and love it here .Iv moved around a lot in my life but here feels like home. I graduated high school in 2010. I Work at an elementary school in a daycare and I teach preschool too. I'm currently working on my CDA and will have an associates degree in child development by the end of the year. As far as activities I like anything that is fun... pretty much anything out door is awesome to me but I also enjoy watching movies and cuddling inside ... that would have to be one of my favorite things ever:) I'v made a lot of mistakes and learned from them.. Had a lot of loser ex boyfriends and friends that just made me stronger and better..Stay out of drama as much as I possibly can but it finds me haha.. Pretty independent.. Leave my phone off some days just to have alone time... but at the same time im a social butterfly .. Love my friends and family till death! Live life to the fullest
Sunny sounds like a pretty good catch, and even Bristol thinks she is good for her ex.
"I have to be happy for Levi's new relationship because it sounds like his new girlfriend is influencing him to want to actually spend time with Tripp," Bristol admitted to E! Online in a recent interview.
UPDATE: Levi and Sunny are now expecting a baby together. Get all the scoop HERE!