NEWS
Liam Neeson on 'Hangover 2': "I Play An Irish Tattooist"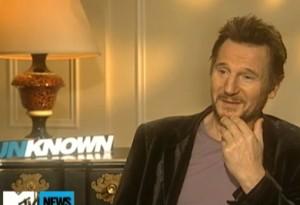 Now that the filming of the Hangover 2 is more settled after Mel Gibson was replaced by Liam Neeson, we can finally get some details about the upcoming sequel. And Liam is happy to share them!
OK! NEWS: LIAM NEESON TAKES OVER MEL GIBSON CAMEO IN HANGOVER 2
While Liam was promoting his new film, Unknown, he willingly gave MTV News some details about his upcoming cameo in Hangover 2.
So, did Liam get to film in Thailand since the majority of the movie is set in Bangkok?
Article continues below advertisement
"Didn't make it to Thailand," Liam said. "I made it to Warner Bros.' studio. ... They built a set, which could've been in Thailand."
But that doesn't mean he didn't have a great time!
"Oh, it was fun, it was. It was pretty intense. I was only there for one day — a Sunday, as far as I remember. But it was good to be with Bradley Cooper — he's a buddy — and the other two gentlemen, I'd never met them before, but I love what they do," he said of Ed Helms and Zach Galifianakis. "The three of them are just, they reinvent the Three Stooges in a very funny way."
OK! NEWS: MEL GIBSON HANGOVER 2 CAMEO CANCELED; ZACH GALIFIANAKIS THE CAUSE?
And he even was willing to confirm his character in the film!
"I play an Irish tattooist, strangely enough, living in Bangkok," Liam shared. "At least I made him Irish."
But he wouldn't confirm that one of the main guys gets a tattoo in the film.
"Well, I do. I get covered in tattoos," he shared instead. "Shamrocks, 'I love Ireland,' all stamped all over me."
Watch his interview below!