NEWS
LiLo Acts Calm Despite "Flipping Out" Before Court Appearance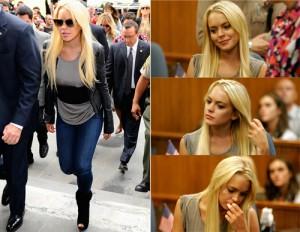 Lindsay Lohan pulled off a surprisingly cool, calm and collected appearance in court today, despite the fact that she was about to be handcuffed and taken away to serve a sentence of 90 days in jail. However, a friend of the starlet tells OK! that Lilo was "flipping out" a few days ago about being sent to the slammer, and that her appearance in court today took every ounce of acting skill she could muster.
Article continues below advertisement
The pal explains that Lindsay was given a strategy of sorts, to be on her best behavior in public and present the image of a bad-girl-gone-good to keep her reputation shiny even while she's behind bars — basically, to be the opposite of Paris Hilton when she went to jail.
"She's surprising us all. She didn't break down. She's calm. And trust me, this was not how she was on Sunday," the insider reveals to OK!. "She's a better actress than I knew. I really thought she wouldn't be able to hold it together in court. But she didn't cry one tear."
"Maybe she's really surrendered to this, emotionally as well as physically."