NEWS
LiLo Demands Makeover Maintenance Before Leaving Slammer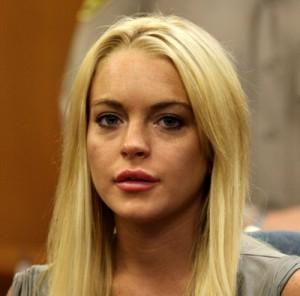 Is Lindsay Lohan's time behind bars coming to an end this weekend? According to her hair, it looks like yes! As the 24-year-old starlet is reported to leave the slammer this week, top hairstylists are on call for her grand departure by LiLo's request.
According to PopEater, Lindsay's favorite hair and make-up artists in L.A. have been put on call from midnight on Thursday through the entire weekend.
Article continues below advertisement
"I am sure Lindsay will be sick of orange and jumpsuits and I definitely think ankle bracelets are out," Phillip Bloch, celebrity stylist told PopEater's Rob Shuter. "Knowing Lindsay, I expect her to emerge in some skin tight jeans and some uber-trendy layered top. If I had the opportunity to dress her Philip dressed Halle Berry when she accepted her Oscar when she exits jail, I would put her in a soft and flowy sundress à la Natalie Wood. It wouldn't be bad to soften up her image at this point."
OK! NEWS: LAWYER — LINDSAY WANTS FAMILY TIME BEFORE REHAB
It makes sense that Lindsay wants to look her best as she leaves her days at Lynwood behind her. Paris Hilton exited in memorable style in 2007 as well.
L.A. Sheriff Department spokesperson Steve Whitmore has said that Lindsay's earliest release date would likely be Sunday, Aug. 1.
Article continues below advertisement
And Lindsay definitely wants to be prepared, as a media firestorm will greet her and document her 30-second walk to the car and first moments of freedom.
Who can blame her for wanting to look her best?
A corrections officer told PopEater that the jail will decide the time of Lindsay's release and it will most likely be around midnight to thwart some of the press activity.
Once all her documents and paperwork are done, then Lindsay and her glam squad can get to work.
"There is a small, dirty public bathroom in the reception area that she will be allowed to use briefly before she leaves," an insider told PopEater. "She will not be allowed to plug in a hairdryer and get a blow out and she can forget about using a flattening iron. There will be no full-length mirror and only if the corrections officers decide to be nice will they close the area to the public. Remember, everyone who works at that jail hates the press. They don't want to be bothered with all this nonsense and want to rid themselves of Lindsay as quickly as possible."
We are sure Lindsay will put on her best acting face!