NEWS
LiLo to Give Fans a Peepshow?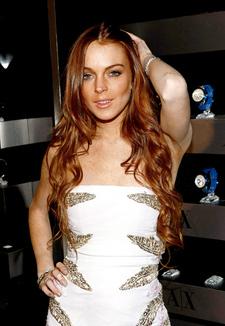 Fans who haven't seen enough of Lindsay Lohan might just want to pay attention: the actress and sometime singer/dancer is reportedly in talks to take over the lead in Las Vegas striptease show, Peepshow, from current star Kelly Monaco.
LiLo was on hand on Saturday to attend the show's grand opening, but PopTarts says she was also there to meet with director and Broadway big-wig, Jerry Mitchell. The show is designed to switch leads on a rotating basis, and the story indicates that Kelly will be ready to return to General Hospital when her three-month contract is up. Mel B is also part of the show.
Article continues below advertisement
"People forget that she (Lohan) is a "triple threat" — she can act and sing and dance," a source tells the site. "She feels that this would really revitalize her career and give her some serious theater cred."
The report also quotes Lindsay as gushing to her Spice Girl pal, Mel B, saying, "If they make me an offer, and the money's right, I'll do it."
Linds has some competition however, as producers are reportedly deciding between her, Holly Madison and Brooke Burke. If she does land the sexy part, she'll play Bo Peep, a shy girl taken under the wing of Diva, played by Mel B. She'll then evolve into a confident, sensual woman.
LINDSAY AT PEEPSHOW IN LAS VEGAS: