NEWS
Lilo & Sam Make Good on Cancelled V-Day Gig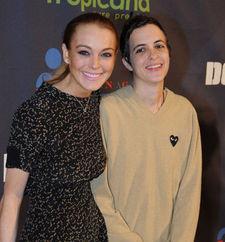 Was it a lover's quarrel that made Lindsay Lohan and Samantha Ronson skip out on their Valentine's Day appearance at Passion Nightclub in South Florida?
The girls blame the scrapped gig on being too sick to fly from NYC to Miami the day of the event--despite photogs who caught the couple arguing outside a club the night before. The next day Samantha flew back to L.A., apparantly well enough to make the 3000-mile trip from NYC.
Article continues below advertisement
Now E! News is reporting that the couple has decided to make good on their cancelled gig, rescheduling the party for March.
"I'm really looking forward to making up the Valentine's gig on March 7 at Passion Nightclub at the Seminole Hard Rock," Ronson said in a statement from the hotel.
So come on guys and gals, if you want to catch Lilo and Samantha in action, you only have to pay $20 bucks!