NEWS
Lily Allen Engaged to Longtime Boyfriend Sam Cooper!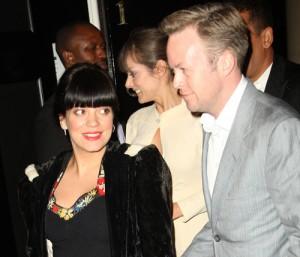 Tis' the season for engagements. First Hugh Hefner, Natalie Portman, LeAnn Rimes and now Lily Allen! The singer, who recently suffered a miscarriage, is the latest in a string of celebrities to get engaged. Reportedly, Lily's longtime boyfriend Sam Cooper popped the question Christmas day!
While there has been no official word from Lily's camp, Sam, 32, reportedly proposed to Lily, 25, while the duo was vacationing in Bali for the Christmas holiday.
Article continues below advertisement
Lily's last Tweet was Christmas night, where she simply said, "Happy Holidays everyone xxxxxxxxxxxxxxxxxxx"
Buzz of the couple's engagement comes two months after Lily suffered a miscarriage six months into her pregnancy.
Sam stayed by her side as she endured the tragedy and hospitalization for septicaemia, a blood-poisoning condition which can be fatal.
Happy to see a bright new year for the couple!