NEWS
Lily Collins: Drinking & Doing Drugs Is "Never Gonna Be Me"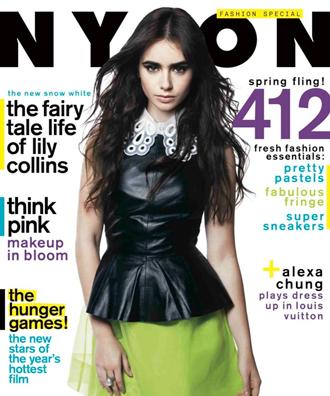 Article continues below advertisement
"Growing up in the English countryside, I would go out into the fields and create my own stories, and I would run around as if I was in a movie," she recalls to Nylon. "That's why for me, playing Snow White was a crazy dream come true, because I've always been someone who would read books and then go and make a movie in my head."
OK! NEWS: MIRROR, MIRROR TRAILER RELEASED STARRING JULIA ROBERTS & LILY COLLINS
Despite landing a dream role, Lily says she still loves living a simple life. So don't expect to see her partying in clubs!
"I have no idea what will happen after Mirror Mirror but I love that I can still do what I want to do on a weekend, like go to the flea market. I don't ever want that to stop," she says. "I won't want to suddenly have to sacrifice parts of myself, and I don't feel like I am, knowing that people are going to be more interested in my personal life. I never did go out and party! I never did do the whole drinking, drugs…That wasn't ever me and is never gonna be me."
"I don't reach for fame; I don't want to acquire whatever 'fame' is," Lily adds. "I just want to be able to continue doing what I love to do."
Lily's new issue of Nylon magazine hits stands Tuesday, Feb. 28 and Mirror, Mirror hits theaters March 30!