NEWS
Linda Hogan Claims on 'Today' Show She "Was Always Afraid" Hulk Hogan Would Kill Her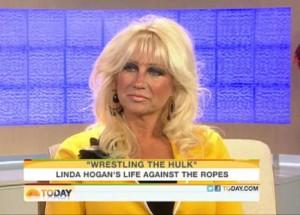 Linda Hogan stopped by the Today show this morning to promote her new book, Wrestling the Hulk: My Life Against the Ropes, and spoke out on her claims that she feared her ex-husband Hulk Hogan would kill her during their marriage.
OK! NEWS: HULK HOGAN MARRIES JENNIFER MCDANIEL; COPS CALLED TO CEREMONY
"He tore my shirt. He threw lamps. He held me down on the bed with his hands around my throat during arguments, slamming doors, pounding walls," Matt Lauer reads to Linda on the Today show from her new autobiography. "I was always afraid he would kill me in one of his rages."
Article continues below advertisement
"When the fight was over, did his rage decrease significantly?" Matt asked. "Did he feel remorse? Did he apologize?"
"He did not feel remorse — and to this day he's never apologized for any of his actions — but that is something that scared me," Linda said. "I did not want to be a statistic like Nicole Brown Simpson."
But Linda didn't contact the authorities.
"I was afraid to say anything," she explained. "Had I said something, the carpet would have been pulled up from underneath his career. I don't know what my kids would have done. They were little at the time. It's scary. It's a very scary position. You don't know how far they're going to go. One fight can escalate and turn into something you don't want."