NEWS
Lindsay Lohan Admits: "I Did In Fact Fail My Most Recent Drug Test"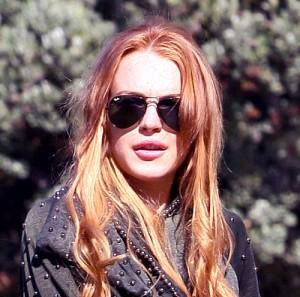 After reports surfaced last week that Lindsay Lohan had failed a routine drug test weeks after her stint in rehab, the 24-year-old is admitting that she made a mistake.
"Regrettably, I did in fact fail my most recent drug test and if I am asked, I am prepared to appear before judge Fox next week as a result," Lindsay announced on Twitter on Friday.
LINDSAY LOHAN FAILS HER DRUG TEST?
The remorseful starlet even admits that she is prepared to face any consequences sent her way.
Article continues below advertisement
"This was certainly a setback for me but I am taking responsibility for my actions and I'm prepared to face the consequences."
E! Online reports that Lindsay must be seen before Judge Elden S. Fox to face her charges, although no date has been set as of yet.
LINDSAY SHOWS OFF HER DARKER SIDE FOR FORNARINA
Despite the possibility of more jail time, Lindsay is trying to finally recognize that she has a serious problem.
"Substance abuse is a disease, which unfortunately doesn't go away over night. I am working hard to overcome it and am taking positive steps forward every day. I am testing every single day and doing what I must do to prevent any mishaps in the future," the Inferno actress Tweeted.
For now, Lindsay is relying on support to get her through a rough time.
LINDSAY LOHAN MAY BE 'SNL' BOUND
"I am so thankful for the support of my fans, loved ones and immediate family, who understand that I am trying hard, but also that I am a work in progress, just as anyone else. I am keeping my faith, and I am hopeful....Thank you all!!!"
According to TMZ, Lindsay attended an AA meeting last night and plans to hit another one this afternoon in anticipation for her appearance in court.