NEWS
Lindsay Lohan Fails Her Drug Test?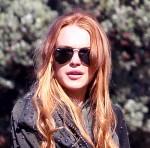 Article continues below advertisement
"People with addiction problems don't get better magically, and she's really been making an effort to make herself better," a source closet to Lindsay told TMZ.
A spokesperson for the D.A., Sandi Gibbons, told TMZ the office has not been "officially notified" of the test result so a court date has not been set.
We'll keep you updated on whether this report turns out to be positive or false!