NEWS
Lindsay Lohan: Coat Thief?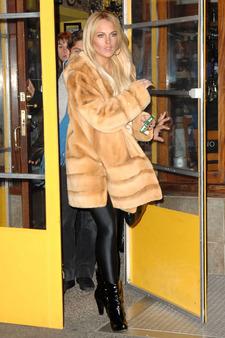 Lindsay Lohan's parents aren't the only ones with legal troubles.
A Columbia University student is fur-ious at the actress for swiping her pricey fur coat and wants Lindsay to cough up dough for the crime.
Masha Markova is demanding at least $10,000 from the 21-year-old starlet for stealing her $11,000 blond mink from a bash back in January, The New York Post reports.
The 22-year-old co-ed wore the coat, said to be a gift from her grandmother, to Stavros Niarchos' private Jan. 26 birthday party at 1Oak, where she mingled with Linz – who was captured wearing a black coat arriving to the soiree. By the time Masha was ready to go home, her prized possession was gone.
Article continues below advertisement
Cue OK! Magazine to the rescue two weeks later. Flipping through the pages of the Feb. 11 issue, Masha was taken aback when she spotted a shot of her party-hopping acquaintance wearing her coat.
"I was actually talking on the phone to my grandmother about something else, and then I flipped through the magazine, saw the picture said, 'I need to call you back,'" Masha tells the Post. "It was my coat. It was no doubt!"
After a few dead ends going through 1Oak, Masha turned to her lawyer to contact Lindsay, and two days later, 1Oak delivered the coat – slightly torn and reeking of cigarette smoke and alcohol – to Masha's apartment.
"They were very discreet, never mentioned a name or even the word 'coat,'" Masha says. "They just said, 'We're going to bring you something.' "
Now, she wants Lindsay to pay the price.
"I don't see how it could have been an accident," Masha says.