NEWS
Lindsay Lohan Continues to Defend Her Partying Habits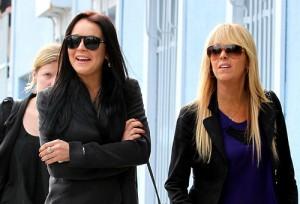 Lindsay Lohan continues to defend her partying habits. In an interview with Entertainment Tonight, Lindsay opens up about how negative rumors effect her life, her partying and what special Mother's Day plans she has in store for Dina Lohan. Lindsay firmly responds to reports that she has a drug problem.
OK! NEWS: LILO FINALLY SHOWS IN COURT, PLAINTIFFS' LAWYERS GIVE HER "HARD TIME"
"No, I don't," she tells ET's Samantha Harris. "I work. If I go out with my friends, I'm 23 and I'm allowed to do that. I don't go out when I'm working."
Article continues below advertisement
In regard to photos taken of her falling down and leaving clubs at 4 a.m., Lindsay attributes it to clumsiness.
"I'm the most clumsy person in the world," she says in the ET interview. "I do trip a lot. I fall. I walk into walls sometimes. I know that the media scrutiny comes with fame but the problem is that it distracts from me getting jobs and judges at court look at pictures and go based on stories. It hurts me especially when it's not true."
"People don't speak to me in a daily basis, so they don't really know. Everyone goes through ups and downs. I would have been in college experiencing it, but I was in the public eye."
Her father, Michael Lohan, would disagree with his daughter's claims that she is perfectly healthy.
Article continues below advertisement
Michael is in the process of trying to place a conservatorship on Lindsay, because he feels her behavior is hazardous and her life is in danger.
Dina accompanied Lindsay to her deposition yesterday in L.A., where she faces a lawsuit issued by passengers in a car who claim they were held hostage by the socialite during a crazy, drunken ride down Pacific Coast Highway in 2007.
Through all of the negative press, Lindsay maintains that her mom Dina stands by her and is very supportive.
"We have a good relationship. We fight like friends do," Lindsay tells ET. "She is a very strong woman. I've learned a lot. Not every mother has to read false stories about their daughter. It's nice to know she has sat by me through all of that. She knows what is really happening in my life."
Article continues below advertisement
LiLo is taking good care of her mom for Mother's day, giving her a a closet makeover from Beverly Hills master organizer Linda Koopersmith.
Dina tells ET that it's difficult for her to read untrue stories about her daughters.
"When I read them, it breaks my heart because it's not true," Dina says of the lies spread through the media. "No one knows who we are. Even my ex talks, talking smack, I guess. We are just very misunderstood."
Lindsay declined to comment on the current situation with her father, and shook her head when asked about his relationship with Kate Major.
"Glorifying him is not what I'm here to do," she said.
Lindsay did comment on rumors that Quentin Tarantino wants to cast her in an upcoming film.
"I would like to contact him to find out! I love Tarantino, so it's an honor to hear that. He's so talented."
For ET's special on the "before" and "after" of Lindsay's special Mother's Day gift to Dina, tune in Thursday and Friday night!