NEWS
Lindsay Lohan Covers Up for Hearing Today: A Look at Her Courtroom Couture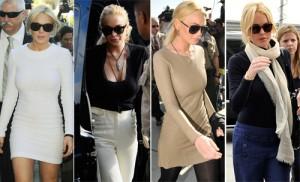 Lindsay Lohan is back in court for a preliminary hearing which will determine if she is put on trial for felony grand theft of a $2,500 necklace. The 24-year-old actress showed up to court today more covered up than ever in long slacks, a long-sleeved shirt and a white scarf!
OK! NEWS: LINDSAY LOHAN PRELIMINARY HEARING — NO CAMERAS ALLOWED!
Lindsay seems to work her court appearances like she is on a catwalk.
Article continues below advertisement
The first dress she wore in February made headlines, as it was short, white and tight and sold out after LiLo rocked it.
She has also shown off her cleavage!
We want to know...