NEWS
Lindsay Lohan Covers Maxim; Wants to Make Profit From Time Behind Bars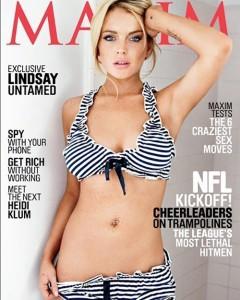 Lindsay Lohan had her business hat on before and during her time in the slammer. The 24-year-old actress/socialite reportedly had an important hobby while she was on bars — writing down every detail of her experience, which she plans to turn into some dough. LiLo also posed for the September cover of Maxim — as well as GQ — before serving her 90-day — ahem, two-week sentence.
Article continues below advertisement
According to TMZ, LiLo — who became a free women in the early hours of Monday, Aug. 2 — filled several notebooks documenting her life in prison with a plan in mind to turn her journal into a book/memoir.
Lindsay also posed for a Maxim cover shoot, wearing a "jailbird stripe" two-piece number, just before heading to the slammer and gave an interview to the magazine.
OK! NEWS: LINDSAY LOHAN BEGINS 90 DAYS OF REHAB
"I am feeling strong," Linds told Maxim about her jail time. "I've experienced a lot in my life, and my mom has given me a lot of faith. This too shall pass."
Lindsay explained she is determined, "To focus on myself and my work, and to move all press on me to focus on the work I do. Also, I'd like to do more work in India and travel to Malawi."
As far as her personal motto....
"Stay true to yourself always. At the end of the day, you have to look at yourself in the mirror and be content with the choices you've made, and will make, in your life. Go with your gut!"
CLICK HERE FOR ALL OF OK!'S LINDSAY LOHAN NEWS & PICS