NEWS
Lindsay Lohan Begins 90 Days of Rehab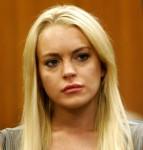 Despite efforts to buy some time with her family after 14 days in the slammer, Lindsay Lohan left jail in the early hours of Monday — and was driven straight to rehab.
Lindsay was released at 1.35am this morning and was driven from Lynwood's Century Regional Detention Facility to a rehab center in an unmarked van, according to Los Angeles Sheriff's Department spokesman Steve Whitmore, reports E! Online.
Article continues below advertisement
OK! NEWS: DINA: LINDSAY ISN'T TREATED DIFFERENTLY
Los Angeles Superior Court Marsha Revel had ordered that Lindsay report to a treatment facility within 24 hours of release, rather than relax with her mom Dina, before fulfilling the three-month in-patient rehabilitation.
Unverified reports either have the 24-year-old checking into the Morningside Recovery in Orange County, or the UCLA Medical Center for intense counseling for substance abuse and emotional issues. There has been no confirmation on either of these claims.