NEWS
Lindsay Lohan Lashes Out at Dad & Cops For Invading Her Home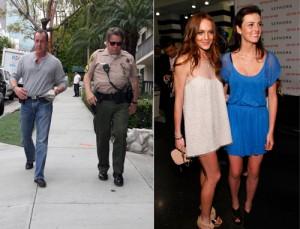 The drama keeps mounting between Lindsay Lohan and her father. Michael Lohan showed up at Lindsay's L.A. apartment today to check on his 16-year-old daughter Ali Lohan, and he brought some company with him — the L.A. County Sheriff's Department.
Lindsay has had enough of her father's antics and told Gossip Cop she wants to get "restraining orders and the cops should be fired!!!!!!!! Also – my building cannot let this happen!"
Article continues below advertisement
Michael approached the L.A. Sheriff's Department and convinced them to check Ali's well being, according to Gossip Cop.
"We went, she checked out fine, and we left," the sheriff's department told Gossip Cop.
The law enforcement officials reportedly left after speaking with Ali while Michael is allegedly on his way to the L.A. County Department of Children and Familiy Services.
Michael has been using any means possible to reach out to his eldest child, Lindsay, and convince her to check into a private rehab facility.
Lindsay maintains that her father is wrong, and her lifestyle is healthy. Dina Lohan also stands by her daughter.