NEWS
Lindsay Lohan Lucks Out One More Time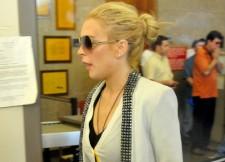 Lindsay Lohan's probation period has been extended for one more year by a judge today during her mandatory progress report at the Beverly Hills Municipal Court.
The judge in her case gave LiLo one more year to complete her court-ordered alcohol education classes, but warned the actress that if the court has to jump through hoops to accommodate her again she will face jail time.
Lindsay's lawyer told the judge that his client has been very busy (Doing what? We don't know either.) and has only had the time to complete half of her classes.
Article continues below advertisement
In total, Linds has only completed 15 of 26 one-on-one sessions, 13 of 26 group classes, 13 of 28 self-help sessions and all six education classes.
Lindsay's extension was granted because her lawyer explained that the Mean Girls star is "moving to Texas" where she will be shooting a movie.
Another progress report is required for Lindsay on December 15.
One more year to get your act together Lindsay! Make it happen!