NEWS
Lindsay Lohan Misses Another Court Hearing, Bail Set at $100K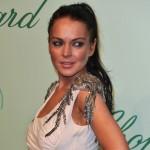 Lindsay Lohan couldn't afford to fool around this time. Her DUI probation judge ordered her to appear in person today, at 8:30 a.m., or face jail time, but LiLo was a no-show. Lindsay's dad, Michael, was in court today, and he told OK! exclusively: "My daughter needs help. And none of this is helping. She's deeply sick and deeply in denial. This is not how I raised her."
Article continues below advertisement
Lindsay claimed that she couldn't make her court date because someone had stolen her passport while she was in Cannes. This did not sit well with Judge Marsha Revel, who has given Lindsay at least two chances to clean up her act.
"If she wanted to be here, it looks to the court like she could have been here," Judge Revel said today. "There's really no excuse."
"She has to take this seriously," she added. "I warned her before."
OK! NEWS: LILO'S PASSPORT STOLEN — WILL SHE MISS MANDATORY HEARING?
"At this time I am issuing a warrant by law in a misdemeanor. Her probation is revoked. I am setting the highest amount of bail at $100,000. That should catch her attention," said the judge. She then added, "Her actions in the past have not justified me in having faith in saying, 'Okay, sure,' " when Lindsay's lawyer requested the warrant be delayed.
Article continues below advertisement
OK! GALLERY: LINDSAY LOHAN LANDS IN CANNES
"If she bails out, the court will include of an immediate order that she not drink any alcohol until we have a formal hearing," continued the judge. "The same day she comes back, an immediate SCRAM device is to be put on her. And she will undergo random drug testing at a minimum of once a week (more often would be fine) at the Santa Monica probation office. These are conditions that the court places if she bails out."
And there's more!
"Let me remind you that this isn't just a DUI case. The original charges here are two DUIs, two drug charges and being under the influence of cocaine. I know she's missed appearances, she's been late, she hasn't shown up and that could be because of drug abuse. So this isn't just about driving under the influence of alcohol," explained Judge Revel. "If that were the case, random drug testing would not be appropriate, but she has two charges of being under the use of cocaine, so I can order random drug testing. When somebody repeatedly has a problem following through, they need to be supervised for their own good."
OK! GALLERY: LINDSAY LOHAN STRUGGLES AS SHE LEAVES L.A. NIGHTCLUB
Lindsay missed two full court-mandated depositions and showed up late to a third in relation to this case. She had three months to attend alcohol education classes, with one class attendance per week. She's only made 10 appearances out of 12. Add that to her well-documented late-night partying, and she's running out of excuses.