NEWS
Lindsay Lohan Struggles As She Leaves L.A. Nightclub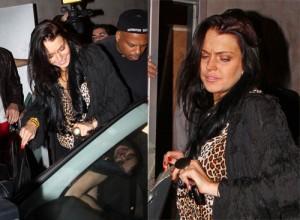 Lindsay Lohan wrestled her way out of Las Palmas nightclub last night in L.A. Seems like Lilo is fighting for a lot these days — in and out of court for her 2007 drunk driving incident and fighting to not get thrown in jail by the judge presiding over her DUI probation. Not to mention her constant battle with her father Michael Lohan. Regardless, Linds always finds time to go out and have some fun!
Article continues below advertisement
Earlier yesterday, Lindsay, with mom Dina Lohan at her side, reportedly attended an Alcohol Education Class in the hope that the judge in her DUI probation case doesn't throw her in jail.
OK! NEWS: LINDSAY CONTINUES TO DEFEND HER PARTYING HABITS
According to reports, Lindsay has not attended the required number of classes and the judge has said she will send LiLo to the slammer if she violates the terms of probation.
She returns in court on May 20 to be tried for her case.
Allegedly, Lindsay got into some more car trouble last night as the driver of the car she jumped into outside the nightclub recklessly drove off, knocking a photographer and damaging his camera gear.