NEWS
Lindsay Lohan Passes Her Probation Progress Hearing and Is Getting Her Life "Back on Track"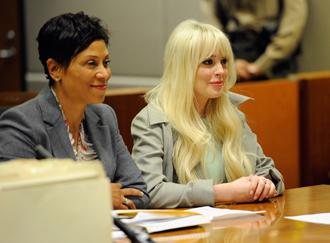 Lindsay Lohan attended her probation progess hearing this morning, and it turns out she's been making a lot of progress — all of it good!
OK!'S ULTIMATE LINDSAY LOHAN PHOTO GALLERY
The actress showed up early (amazing!) for the hearing and dressed appropriately to face Judge Stephanie Sautner.
Lindsay received all good news from the judge, who was impressed by how much Lindsay has cleaned up her act.
"She has done everything that's required," Sautner said (via E! News). "The way I figured it, and we talked, there's 14 more days of community service and five more therapy sessions. Ms. Lohan, you're in the homestretch, OK? The probation officer's pleased with your progress, you seem to be getting your life back on track, and that's what we've all hoped for."
Article continues below advertisement
Well done, Lindsay!
OK! NEWS: LINDSAY LOHAN TO HOST SNL IN MARCH
So, what's next for the star?
LiLo will have one more probation hearing on March 29. Before then, she needs to complete 14 days of community service, five therapy sessions and pay a $3,500 fine.
Do you think she'll be able to stay out of trouble until then?