NEWS
Lindsay Lohan Reacts to Dr. Drew Pinsky's Second Round of Advice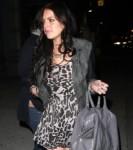 After Lindsay Lohan called Dr. Drew Pinsky a "quack" last weekend for offering her unneeded advice on getting healthy, the 23-year-old reacts yet again to another statement from the professional, calling him a "loser."
"He's such a loser… He's not a real doctor, he's a celebrity doctor," Lindsay revealed to Gossip Cop of Dr. Drew's unwanted words of wisdom.
Article continues below advertisement
Dr. Drew took to the Huffington Post on Saturday to reiterate his guidance for the party-girl actress, placing himself in her father's shoes.
"When I was asked as a father, if I were in Michael Lohan's position, what would I do to help my daughter, I am clear that I would go to any lengths to get her to and retain her in treatment. Bringing legal consequences to bear is often the only alternative," Dr. Drew suggested legal action to help Lindsay get back on track.
LINDSAY LOHAN TO PORTRAY XXX STAR LINDA LOVELACE IN 'INFERNO'
Reccomending that the police become involved in Lindsay's health, Dr. Drew thinks that legal action may be the last resort.
"If I was in his position and I knew she was addicted (which I personally do not) and all else had failed, I suspect I would contemplate even this as a last resort," the doctor added, "I am not suggesting this as a routine intervention but we frequently enlist law enforcement when we have exhausted other measures."
LINDSAY LOHAN CALLS DR. DREW PINSKY A 'QUACK'
Despite his harsh advice, the Sober House expert claims that he just wants the best for Lindsay.
"I do not know Lindsay Lohan but I sincerely wish her the best… I hope one day she returns to her recovery as I believe she will one day thrive, provided that this disease does not first bring some horrible consequences down upon her."