NEWS
Lindsay Lohan Says She Did Not "Scrape" a Man With Her Car: "This is All a Complete Lie"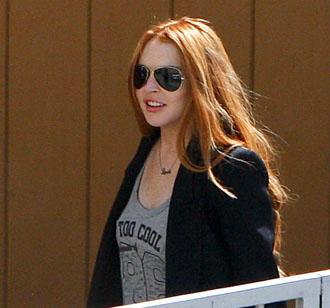 Well folks, Lindsay Lohan DID NOT hit a man with her car this morning — at least, that's what she says. The actress is furious over the news that she allegedly "brushed up" against a man with her car while leaving Hookah Lounge in Hollywood.
OK! NEWS: LINDSAY LOHAN ALLEGEDLY HITS PERSON WITH CAR & THEN RUNS!
"Scrape? This is all a complete lie. I've been at community service," Lindsay Tweeted this afternoon. "Last night, I attempted to wish a friend happy birthday, which I didn't even get to do because I was freaked out by all of the paparazzi. These false accusations are absurd."
Article continues below advertisement
E! News has confirmed that Lindsay was in fact at the Los Angeles County morgue today, cleaning up as part of her probabtion for her DUI case. (See photo).
The Los Angeles Police Department reported that the incident happened just after 1 a.m. in a Hollywood parking lot while Lindsay was struggling to maneuver her Porsche due to the swarms of paparazzi and onlookers. The man who claims to have been bumped by Lindsay's car has yet to file a criminal complaint, but her rep says even if he does, there's no proof that her vehicle ever touched him.
OK! NEWS: LINDSAY LOHAN RETURNS TO HER REDHEADED ROOTS!
"Lindsay stopped by the club to drop in on a friend's birthday party. When she arrived, there were so many photographers there that she decided to leave and never even got out of the car," her rep told E! News. "At no point was there ever any indication that her car hit anyone or anything. We are confident this matter will be cleared up in the next few days."